Keep Calm and Scrub-a-dub dub those germs away thoroughly with good old fashion soap and water!  We know that scrubbing and washing your hands multiple times a day can also take a toll on your precious skin, which is why moisturizing is so important. So what can you do to make sure your skin is always silky smooth? Use handmade soap that is free from harsh chemicals and detergents. We specially formulate our soap bars with plant-based ingredients to have extra moisturizing properties. All of our soaps contain skin-loving oils like Olive and Avocado plus all of our bars are...
---
Introducing our Clean Living Collection, a collaboration with Studio AR+Co. Design House     I was so excited to get a package all the way from Stockholm, Sweden! This collection is so important to us at Lelé, let me tell you why in this blog post. These brushes are completely  hand made, one by one, meticulously crafted by visually impared artisans for the incredible  family owned Iris Hantverk company. The impressive design and crafting methods date all the way back to the 19th century, they are completely natural and most importantly, sustainable. All of them are ethically sourced and harvested...
---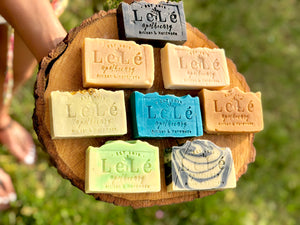 How Soap is Made: The Cold Process Method    A spotlight on the soapmaking process at Lelé Apothecary How is soap really made? In simple terms, the cold processed soap making method converts the fatty acids in different oils, milks or butters (mixed in with Sodium Hydroxide or NaOH and H2O) into a chemical reaction called Saponification. This method can be dated back to ancient Babylon or about 2800 BC where ashes were used in place of Lye to convert fats into soap, crazy huh? A lot of people ask themselves, "But is lye necessary?" Yes! all soaping techniques use sodium...